Success Stories: 2009
Anaya77
I met my now fiance' on your site. He asked me to marry him. I have my engagement ring and we had planned to get married in December, but due to the Christmas holiday, we have put it off until next year. I never thought I would meet the perfect man for me, but thanks to Blacksingles, I DID!!!
Darkangel704 & Gwitch
I have been on BlackSingles.com for over one year & had not met anyone special until I met the woman of my dreams in Gwitch. I didn't think anything would come of our meeting because she is older & lives several states away. But, I sent her a card on July 10th of 2009 just to say hello. She responded and later gave me her number. Since then, no one day goes by that we don't talk to one another. She took some much needed vacation time to come see me in September & that was the first time we saw each other. Seeing her for the first time left me breathless. Now we are very much in love and have even talked marriage. Thank you BlackSingles and God bless! And to all of those still looking, may you find whatever it is your heart desires.
Anquinette3
I signed up for Blacksingles.com and I met my future husband the same moment I decided to pay for my account. He IM'ed me and we immediately starting dating after a few conversations. We were an exact match! Thanks to Blacksingles.com my drought of being single is over! AT
AZ74
I have been on this site for some time and I finally signed subscribed to be a premium member. The moment I did that, I was able to send emails and I sent a smile to a very nice looking man. He sent one back. He asked if he could call me and I gave him my phone number and he called. We hit it off right away. This was about 4 weeks ago. My birthday was also coming, so he sent me a lovely gift. I asked him to take the compass test and he did. We scored HIGH. Our color codes are blue and white. I must say this is a perfect match. Even though we live in different cities, we make time to see each other when our work is not in the way. We talk every night on web cam and we are planing to get married in the near future. I thank you BlackSingles.com. You have put two people together that are in love and want to stay that way.

Thank you!

***Updated 12/19/09***
We are now married thanks to this web site. We are very happy that we were led to it. We are very happy and blessed by the connection we made on BlackSingles.com. Thank you so much. To God be the glory!!

Thank you,

Avery and Stacie
Godbest53 & Honie52sweet
My perfect match was searching through the women's profiles and came across mine and he said he loved everything about it and decided to send me a smile. I responded and it has been going every since and neither one of us was on the site a month before me connected. I sent him my # and he called me and it was on. I got the one God wanted me to have, not games. It was like love at first voice because we live in different states and we are getting married in March of next year. So thanks BlackSingles, God Bless and much success.

Honie52sweet....thank you God and I know it's real because I have not had a message of any kind from anyone since I spoke to my one and only.

Thanks!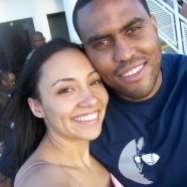 TAJjd & bbal20
We both paid for the service and met about one week later. I saw that he had viewed my page, so I sent him a spark, which led to a heated discussion about the Lakers...go figure. But, we instantly hit it off that first day exchanging messages. The second day we exchanged numbers and have been going strong since. He lives in Southern California, and I'm in the Bay Area, so the distance isn't terrible, and we've done our best dealing with it. In fact, the first day we met in person was really special. It was election day, and we were talking about how great it would be to see Obama win together. He found a flight an hour later and flew out for our very first date. Sure enough, Obama won, and we were both so moved. That was such a profound moment for our country, and thinking back at it now, I can't imagine spending that moment with anybody else. Hands down, best first date ever!

It's been almost a year now since we first met and we're now having discussions about relocating. We have only you to thank...so THANK YOU. We couldn't be happier, and are excited to continue moving forward together.

You provide a wonderful service!

Thanks,

Talia
VitaminE09
I met a very special person who shares very similar interests and values. We were able to chat to get to know one another and began dating. The compass test was on point, we were a very high match and being with each other, it was proven. The biggest thing that made it a success was that we were very open with what we both wanted and did not play games. Thank you Black Singles.
eddyjohnson & Lynnes48
I can say that I was apprehensive to subscribe "again" to Black Singles (BS) back on 7/20/2009 because previous subscriptions did not lead to positive results. Open communication began between myself and Lynnes48 on 7/20/2009. After many attempts on Black Single to connect with "the one", I can now say that deep within the core of who I am, I feel that I have found "the one". She is a very beautiful woman inside and out and we both desire marriage. I am so thankful that God offered me a presentation of Lynnes48. I could not have asked for a better "possible mate".

Peace and Joy


Melissee & Ra-Shaad
I wasn't quite sure I wanted to join a dating site, but once I saw "Ra-Shaad" was trying to instant message me and the price to join was only $10, I thought I really had nothing to lose. We have fallen in love in such a short time and can't wait to spend the rest of our lives together. I have found my soul mate and never expected that to happen on a dating site. BlackSingles will be my one and only recommendation to any seekers looking for love...