Success Stories: 2006
| | |
| --- | --- |
| Page 1 of 15 | < Previous  |  Next > |
KENNYH0084
I truly met the woman I been praying for thru your services and it was an instant bond. The search I made continiously kept putting her first on my search. I decided to take a gamble and go with my heart. It said that we were compatible 100% and boy were they right. It was an instant attraction, and we have been together since. I plan on popping the big marriage question on her one day. She truly is one of a kind. I am waiting on the day she is totally mine. Her son and I get along. I truly wish everyone could find someone like my baby, but, there is none like her.
glo3 & Sweetyone
I joined B.S. in October 06, just for fun. I was feeling very low and a friend recommended that I give Black Singles a chance because they were different. So I did I have been chatting to a few nice people, but still had not found my soulmate. Then, one evening, I sent my profile to sweetyone and he responded with a smile, saying would you like to go to dinner. I laugh because He was in Canada and I am in England. I was not a full member at the time so could not read my mail so it was back to the cards and smiles; even though he was sending me more mail. So my friend said why don't you change your profile, tell him next time he was on line he should I M. me. This I did and resent my profile and Bingo it worked. He IM'd me and that was the start of a beautifull romance. Myself, Glo3, and Sweetyone became Engaged on the 22nd December 06. He came all the way over to England to meet my family and ask me to be his wife. We have not set a date but it will be in the summer 07. So thank you all at BlackSingles.com, you have made two people very happy, god bless you all
Glo3 and Sweetyone.

**UPDATED May 7th, 2007**
We now have a date for our wedding, which is the 29th Sep 07.
dezrae & Wattage
Let me begin by saying it's been a pleasure meeting everyone on BlackSingles, but i've finally met the man for me. Wattage sent me a smile with a note, at first I wasn't going to reply, but i asked myself "why not"? A few weeks later we met in person and WOW!!! He really knows how to treat a lady. Wattage is the man I have been looking for. We have been inseparable since then. I say all that to say, I am cancelling my account to concentrate on us. Good Luck to Everyone


Dezrae & Wattage
Sade123
I have been a member for approximately a month and actually met someone who did not have a picture on the site which was very different. We talked for awhile and I invited him to attend a Christmas Party in Florida with me. I met him for the first time @ the airport and at first he did not appear to be my type. Nevertheless, we spent time together and he was such a gentleman that I grew to like him. He attended the Christmas party with me and my co-workers and boss thought he was so handsome and kind. He is so confident in himself. We are not an item but we are taking it very slow. He invited me to his hometown Massachusetts for New Years and I guess we will continue to see each other and see where it leads us.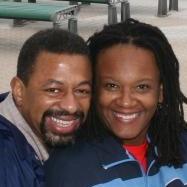 PeaceNquiet & Dmg06
Love Lost and Love Found

I lost my first love in 2003 after 25 years of marriage and began searching dating sites for companionship in 2004. But after only one month of membership at blacksingles.com in October 2006, I found my new love, Dmg06 of Florida. We bonded immediately after chatting and then talking on the phone. He, too, had recently experienced the loss of a spouse. We have so many things in common, we definitely complete each other. We met Nov. 5th and have been meeting every weekend since that day even though I am almost 300 miles away in Mississippi. Marriage is definitely in our plans for the new year, and we can hardly wait. Thanks be to God and thanks to Black Singles for helping us find each other.

PeaceNquiet
Destiny2003 & Richard69
Finally The Man of My Dreams Has Swept Me Off My Feet! "THE LOVE OF MY LIFE"
EVERLASTING LOVE!

It was one warm spring night in April 2006…
I was just online checking my email and saw that I received a profile from Richard69…
We sent smiles, cards, and our profiles back & forth for almost (2) wks until we finally connected via chat…
Richard69 was like a dream come true! We often wait for that special one to come into our lives but God always know when it's possible.
Richard69 is a very spiritual being. God has showed him so much about me that scared me at first…
My response was a question I ask God above "Father above could this be the one"…
How this strange being did know so much about me without even laying eyes on me…
This connection was unbelievable and touching….
Well Richard69 did not have a photo online but I requested a photo following our unbelievable chat…
He sent the photo to my email address and I was so impressed staring at him standing tall and handsome!
My first response was Wowwwwwwww…
I requested to speak to him live and he granted my request…
When I first heard his voice I was blown away….His voice CAPTURED me…!
I remembered it like it was yesterday because to this day he stills captures me!
We chatted for only 10 minutes but it was a moment I would never forget hearing his voice and listening best describe his demeanor as humble, intelligent, mature, and such a gentleman…
Such a Gentleman!
Days later he would call me by surprise I would love to hear his voice…
When I look at my caller ID and saw his name I would quiver and say OH Wow its Richard!
The many cards and smiles at least 200 cards…lol
It was the night when he called me his ANGEL and the moment has arrived when I knew this was it!
Finally the connection grew stronger we spent so much time via chat on yahoo and via chat on the phone for hours and hours until 6:00 a.m.… from June 2006 – present!
When I can talk to a REAL MAN and each and every conversation is merely about life in general, our children, our current jobs and the future and never a topic about what he wants to do to me sexually is merely a TRUE, REAL, MATURE, GENUINE, GENTLEMAN! Out of this World!
This was wonderful trait in him that I LOVED at first sight!
August of 2006 was when we realized we were in LOVE with each other…
Mind you it was strictly conversation connecting spiritually! Off the HOOK!
We shared so much more when we realized this was it! ALWAYS IN SYNC!
I was home (Connecticut) on September 18, 2006 handling business and we had no plans of meeting until late September but we changed our minds instantly and knew we had to meet immediately!
We decided to meet in New York City that evening and I would never forget this moment! I was a nervous wreck waiting for him to arrive!
There was the knock at the door as we were still on the phone communicating I opened the door and almost past out! He was just like I imagine! I was speechless staring at him and he thought something was wrong with me! lol…

But what was wrong was that he blew me away! Totally! I love his beautiful smile and those DIMPLES!

On September 23, Richard met my parents & my 19 yr old daughter in Connecticut after our final meeting at my parents on the 24th my MOM hugged him to say goodbye….
She looked into his eyes and said "I told my husband I dreamed that you were sitting in my kitchen and Stephanie was moving back up north"!
You want to talk about CONFIRMATION!
I decided immediately during this time to post for relocation back home to spend the rest of my life with the MAN of my DREAMS!

On October 22 I met his parents in New Jersey and I fell in love with his parents right from the start and they love me too…
After my first meeting with his parents they wanted me to return without Richard anytime I want!

Blessing by both parents were confirmed and we decided to take the next step!

He flew to Atlanta Thanksgiving week to meet my 14 yr old daughter and my 20 yr old son and they connected so well. My daughter loves him!
The final confirmation and blessing were my children…
Richard69 purchased my beautiful diamond engagement ring in Georgia that week!
Engagement is set for New Years!
This was like a dream come true a fairy tale…
I have never been this happy in a relationship that is so complete! I could never ask for anything more than what God has blessed me with…
He is so wonderful! I love him so much!

All who remembered Destiny2003's huge celebration in 2003 was back in Connecticut when I was moving to Atlanta via through my employer!
I have been in Atlanta since until today on December 21, 2006 I just received confirmation on December 15, 2006 that my employer will be relocating me back to the north for a new position in Connecticut!

Richard69 told me that he was going to swoop me up in December and place my daughter in his pocket!
His exact words!
I remember on November 30th when he told me I was going to receive a phone call in reference to a position up north by 2:00 p.m. and my offer came in at 12:10 p.m on November 30th!
Everything he professed has come true! EVERYTHING!

I will go on to close by saying when God place two people together you know it's REAL:
Richard69 has swept me off my feet and on December 22, 2006 I will be spending the rest of my life with my best friend, lover, soul mate, forever dream and Love of my Life!
I could only be grateful and thankful to GOD for sending me what I prayed for!

This man was heavenly sent! I love the Lord for this!
I am the happiest woman alive! I am about to spend the rest of my life with the most handsome, patient, humble, intelligent, understanding and loving man that I have dreamed of having for many years!
We will be seeking our dream home this weekend and planning our future together for the rest of our lives! Thank you God, Thank you Richard69, and thank you BSC for allowing my soul mate to find Destiny so that we can spend DESTINY together for the rest of our lives…
This was like a dream come true! Our wedding song we choose is "Always & Forever" the original!

BSC family thanks for your time and BSC ladies don't give up on your blessing the same way he has blessed me trust he will bless you! Believe it and RECIEVE IT! Trust God!
Father in heaven I thank you for allowing this meeting and I thank you for sharing such a love I have always dream of! Our Season has arrived!
And Father for this I am grateful and honored!
Goodbye BSC and again thank you!

Destiny 2003
Richard69
flygal86 & GENO256
This has been funds well spent. I have found the love of my life...my everything...my husband...my soulmate...my friend. His name is GENO256 and I am FLYGAL86. We are so in love with other and plan to be married in the near future. He lives in California and I live in Texas. We spend hours not just holding the phone but literately talking. We have so much to talk about always. We are so compatiable we both have Verizon accounts so our conversations are always free. We are totally free to enjoy each other. He will will be visiting me for the New Year and we have very big plans with other. To all the members that have sent cards and smiles to both of us we would like to thank you. We would also like to say keep the faith and have patience because you too will have success. Good luck. Thanks BSC Geno256 & Flygal86.........Photos and a follow-up will be coming soon.
DDubb2001
THANK YOU, THANK YOU, THANK YOU ! ! ! ! ! ! ! !

From the bottum of my heart I must say thank you. It didn't take long for me to find my dream or should I say my Queen. Every time I would log on to see who is on line, my now Queen would be the first to pop up as my ideal match. But I never responded to her thinking that she would be taken already because how pretty she was. On Dec.5th, 2006 I finally invited her to chat and she responded. Not only did we have the same interest but the same talent being musicians in a church. We have been conversing everyday since then; writing poetry to each other back and forth it's been too wonderful. We are already making plans for the future. We both were what we asked GOD for in a mate. Once again thank you for the site it served its purpose. And those still searching I suggest that you take my advice and go for it, I did.

Happy Forever,
Derrick G.
anne2006
Thank you Black Singles for making my life complete. Only after 1 hour of becoming a member, not having a photo, I met the man of my dreams. He honestly completes me. We connect on every single level. We are making plans to be together forever next year. This has definitely made my year and the years to follow. Your website is all what is says it is......to those still in search of their soulmate, don't give up, they're out there.


Anne2006