Success Stories: 2010
janthny
I have met the woman of my dreams from BlackSingles.com. We truly do match 100% and I know that she is the woman I have searched for all my life. I will never be able to find
another woman like her, so why even try. I need to channel all of my love and energy to her.

Thanks you for providing me the opportunity to find my perfect match. Your service works and I know that there will be more people like me that will bless you for the service you provide. May God continue to bless you and prosper your business.

Sincerely,

Jerome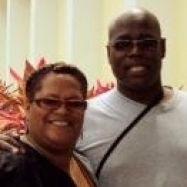 kenitomendez
On April 19, 2007 I met while on your site Karen. We dated that evening at a Spanish Restaurant in Newark, NJ, went dancing at several clubs and restaurants in the Newark area. We drove around all evening talking, laughing and getting to know each other. We each did not get home 'til noon the next day. We went to breakfast and called each other all day. Three (3) MONTHS later we moved together. We became engaged and was married on January 13 2010.

We both were very please with the ease and pricing structure of your site. I continue to recommend BLACKSINGLES.COM.

Thank you for you having had this wonderful site available.
ASSTMGR & EGBSR22
Her Story:
I met the man of my dreams; my soul mate; after having my profile on-line for about a week. We started conversing on-line for a few days and then we spoke on the phone a few times (for hours and hours!!). Our conversations were so deep and we have so much in common it was incredible! Finally he asked if he could come visit me and it was love at first sight. We are going to visit my parents for the 4th of July and he is going to ask for my parents blessings. Thank you sooo much Blacksingles.com!! You guys have a great thing going on. I love you as much as EGBSR22!!!!!

AsstMgr

His Story:
This was really a special gift from the man upstairs. I was doing my usual routine. I would come home, turn on my computer and check my mail and then I would go to BlackSingles.com and see if I had any messages or cards, etc. Once I checked that, I did a search for my surrounding area and I came across her picture. I never seen the picture before of course. I sent her a message and patiently waited on a response. I really didn't expect one back because she's such a beautiful woman and I thought she wouldn't have time, knowing her box would be full. Needless to say she commented back and informed me that she was interested in chatting. We chatted on the computer for a few minutes and then she gave me her phone number and asked me to call. From that moment on, we went to the level that we are at right now. I have never felt this way about a woman before. I mean we have so much in common. When we finally met, which was 1 week after meeting here, we hugged each other for probably about a solid 5 minutes not wanting to let each other go. It's like we've been searching for each other for such a long time. We do everything together. She's definitely the love of my life and I don't know what I'd do without her in it. I wasn't a real believer in this online dating thing, but this has really changed my mind and my life. Thank you and my future wife. You have a good thing going here and I'm truly proud of the fact that I joined because if I hadn't I wouldn't have my soul mate!!
Cancercrab & Nyolka
Our story began over 5 years ago on BlackSingles. Cancercrab and Nyolka were married in April 2010. We believe our success was attributed to us taking our time and getting to know each other. The BlackSingles site was the perfect environment for us. After chatting for two years because we lived in different states, we met over a convention that lasted a week. Then we continued to keep in touch for two more years through BlackSingles and phone calls. Then one day, we decided to make it official and date exclusively. It was all over after that....we were in love. After a year we decided that we never wanted to part and got married.

Thank you Black Singles.
Nyolka and Darnell
eightspecialties
Don't know for sure, because he's 600 miles away, but,, HE took several looks at my profile, and hesitated BECAUSE I was so far away, then finally contacted me, and we have been talking ever since via phone and text....it FEELS very right, but, we are BOTH just very guarded at this point, but, I have more HOPE in him right, than ANYBODY I've met in the past 4 years that was/is in my zip code, so, we may be taking it slow, but, we BOTH feel a TOTAL connection and vibe, and we are (actually) thankful for the opportunity to HAVE to take it slow, and "find" the connection long distance, B 4 we commit to the inevitable chemistry of "in person" we both KNOW will be there! Reluctantly, I have to give the credit to BS.com. I "hope" to keep you updated with (what I hope) will be a REAL connection. Willie is the sweetest person/man I've "met" in a very long time!! Thanks BS.com. Really.
Letsagree & Essence2be
I joined "Black Singles" because I applaud Black Love, and this site was a link to that. I didn't think that I would be on long. So I signed up for three months. I began to chat with some very interesting and nice people. I came across a photo of a young lady that I immediately added to my favorites didn't and know why. I began to send her cards, emails, and smiles. I requested her number and she didn't respond quickly, she made me wait(she didn't know I have the patience of Job..LOL). I began to feel drawn to her by fate. We started to call one another and began dating. I was so struck by her "Brilliance and Great" personality. We have a lot in common and now we are a loving couple. Robin has stolen my heart so quickly, that when she pulled it out and left a hole, she then quickly fused our hearts together and put my heart back fused with hers. We beleive that God brought us together and He didn't make a mistake! Black Singles was the tool used in the journey of our destiny! Thank you Black Singles for being on cyberspace and the vehicle by which our hearts came together as one. Robin -N- Rubin 4 ever!

"Letsagree"

Rubin
lmoore01 & Judah607
I would like to thank everyone for viewing me and taking the time to view my profile. I need to let everyone know that I have found a young, amazing, extraordinary, possesses intelligence, charming, outgoing, attractive, loving, caring, respectful, charismatic man who adores me and I have fallen deeply in love with him. I thank god for bringing him into my life and allowing me to feel real true love. He has a wonderful personality and a gorgeous smile that captivates me, and he treats me like a queen. As of Saturday, May 15, 2010, I got engaged to a wonderful man, Juma. (Judah607) I am exceptionally happy, satisfied, and so blessed. I am so overwhelmed with the strong feelings that comes over me when I hear his voice, when I evoke him, or when he just holds my hand. I am so in love with this terrific young man I have been blessed with. He treats me with respect, like a real true lady I am, not only does he speak it, BUT he shows it by his actions. I am in love. I do hope that everyone on this site find love, cherishes it, loves it , and holds on to it. Live your life because you only live once. When you live it, live it in happiness. Have a blessed day!
Rockalicious
I met him on Black Singles. The moment I saw him I said yes, that is my husband. We connected so well the vibe was out of this world. I was always one of the people who said I would never date on-line because I was worried about what other people would say. Well, I'll say this...it's no different then meeting them on the street, Club,Bar, or anywhere else. A lot of people may say, "Oh it's still new". and yes you're right, but we can feel it. We will be together. THANK YOU BLACKSINGLES!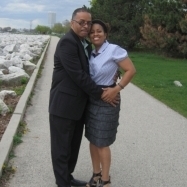 Essence2be & Letsagree
I must say having a profile on BlackSingles for over 3 years has been very interesting. My mailbox was overflowed with messages I couldn't retrieve, so I decided to become a member. Not really expecting to meet anyone I would fall for, just meeting some interesting people was about all I anticipated. After checkin' my BlackSingles around Valentine's Day, I became intrigued by "letsagrees" profile. Handsome, brilliant, lots of charisma, spiritual & just an all-around captivating "brotha"!! We had so much in common, even our names (Robin & Rubin). When we finally went out (after making him wait awhile) we had the best time ever. We just click!! I was simply blown away & sweep off my feet. Stimulating conversations, romantic dinners & deep kisses, keep a "sista" a glow!! Our sharp inquisitive minds with a great sense of humor keeps are relationship interesting & flowing!! Our love feels authentic and full......it's fun, exciting & full of adventure.......he never ceases to amaze me!! I believe in true love once again.......it's beautiful, Black Love is simply wonderful!! Our journey has begun......our future looks bright!!

Thanks BlackSingles for finding my soulmate!!

Robin a.k.a "Essence2be"