Success Stories: 2008
daisys346 & georgetoo11
George found my profile on here and started writing to me. We hit it off right away and he is a wonderful man. We care for each other and accept each other just the way we are. We are already talking about getting married even though we haven't known each other long. I want to say thank you to BlackSingles.com for helping me to find the man of my dreams.

daisys346 and georgetoo11
sweetsexy08
Well, I was online and I noticed that he sent me a smile. I looked at his profile and invited him to chat. We immediately hit it off and he honestly was not the first guy I chatted with. We talked on the phone the first few nights and decided to meet up. We have been hooked ever since. I was scared at first because he was too good to be true. It's now only been a month and I am head over heals for this man and he showed me love before telling me. Thanks BlackSingles!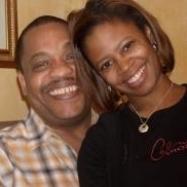 Detrie13 & Truckturner55
We started corresponding in July of 2007. Truckturner55 did not have a picture with his profile, so I did not pay much attention to his smiles at first. He was very persistent and caught my attention. We communicated via e-mail at first and later by phone. We planned a date and I canceled at the last minute. Five months later, we caught up with each other and went out on our first date. The connection was so natural and the timing was perfect. We are getting married July 4, 2009.
SJJJ & Marmar2552
On January 30th, 2007, I met my soul mate. He popped up on my BlackSingles IM and we began to banter like we had known each other forever. He was warm and funny, Christian and cool. We are mirror images of each other in our thought processes, finished each others' sentences, and had very similar senses of humor. I could not believe God had blessed us with each other (we both had been praying for our spiritual soul mate).

Well, when we fast forward to September of 2008, we were joined in Holy Matrimony and on the path to lifelong togetherness. Neither one of us could be more thankful or happier.

Thank You Black Singles, for without your wonderful site, this match made in heaven would have never happened.

To Black Singles members ......remember Black Singles can help make your dreams come true.

Marcellus and Sheila


Shayes7
I have found who I believe to be the perfect person for me and it is so funny to me that we live so close to each other, but never crossed paths. I believe that God does all things in his time and not in our time and everything happens for a reason. So, thank you Black Singles!
gharrylove
THE WOMAN I MET ON THIS SITE IS THE MOST WONDERFUL WOMAN THAT I HAVE MET. WE ARE NOW HAPPILY MARRIED AND HAVE MOVED ON. THANKYOU, THANKYOU, BLACK SINGLES! KEEP UP THE GOOD WORK. REMEMBER THIS, YOU CAN PLEASE SOME OF THE PEOPLE SOME OF THE TIME, BUT YOU CAN'T PLEASE ALL THE PEOPLE ALL THE TIME.
bestcatch1952
I was on BlackSingles.com for 2-weeks and I found my partner. We have so much in common, even though there is an age difference. We are both committed to this relationship and/or partnership working. Thanks to your site we are talking about one or the other relocating to each others home city. Thanks!
Spice_oflife
I reconnected with my fiance' through BlackSingles. We were always fond of each other, but he lived in Texas and I'm in Florida. We connected and now I'm moving to Texas. We have loved each other since we were young kids...
poetmerl1 & Intimatepath
I HAVE MET THE MOST REMARKABLE MAN I COULD HAVE EVER DREAMED OF

Intimatepath and I have been seeing each other for only a month now if that, but we are so in tune with each other. We both have common goals and love to do many of the same things. We compliment each other as well. I help in certain areas as well as he helps me in certain areas. Well, it's just the beginning for us, but I am a very happy woman right now and I will keep you all posted on our future. I do believe I have met my husband.