Success Stories: 2008
wwjdkeeta & KoolG50
I met KoolG50 on 7/9/08, he e-mailed me. We talk every day, all day long, like we where back in high school. He lives in Atlanta, I'm in Chicago. The first time we laid eyes on each other, it was love at first sight. We are getting married 09/05/2009 in Atlanta. I just want to say THANKS for your service. We see each other every month. His name is Sterling. He will fly up here and send for me to come to Atlanta. Once again, Thank YOU from the bottom of my heart. GOD has answered my prays.

Yours Truly,

wwjdkeeta (Chiquita)
Alice1960
I have never dated anyone from a dating website, but I decided to try it for a month. I was afraid that I had lost out on $25 and ever finding true love again, but it was faith I had and only 3 hours left before my month was going to end. I met him and we have been dating now for 2 years and 3 months. We will be getting married in a couple of months. He is so kind to me and he treats me like a QUEEN. We are so happy thanks to my lover Khamilali2 & BlackSingles. I hope that everyone will find happiness as we have.

Bobbie & Khamil
Machell67 & RayRay711
The day I decided to close my account, I had one message that I had received from RayRay711. We had sent each other messages a couples of times. I didn't think that it would be serious because of the distance. I sent him an email to let him know that it was my last day on the site and he sent me his phone number and we've connected. A match made from heaven! He proposed to me on 10-17-2008. I said YES! We are very grateful for your site; THANKS! Keep up the good work, it really works.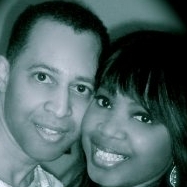 Teechele & Ignite_Me
In the beginning God created man, and he said man should have a help mate, then he created from the ribs of the man, woman.

Genesis....the beginning of the creation of a perfect and blessed union.

And as in Revelation: our purpose of connecting online was revealed to us in time.

So how did this Director of Nursing connect with the Asst. Billing and Collections Manager at a major law firm?

"One Sunday Morning"
It was a Sunday Morning, birds singing, butterflies dancing, a beautiful
day, a day about to unravel in the sweetest of ways, that only the dear Lord knew. Like most of us in this electronic age, we check our mail in
passing, check the weather or just the sake of checking something on the internet. For me... it was the mail. What's this I have here, an alert, possible matches and pictures too! Who is this
lady, do I care to greet, do I have time church service draws near, scrambling I log on to the site oh what else do we have here. Sending her a text, guess what she is online! Will she answer or will she decline? As fate would have it, she did answer, a brief exchange as I had to run
off to church, but not before I threw her all my digits. I was not playing....(Ignite_Me)

Well I usually wouldn't respond to IM initially from guys on line; this is phenomenal because I
had closed out my account with another online dating service, and forgot about this one. I was checking my mail and realized that I was
still getting matches; so because it was early Sunday morning I had time on my hand before church just to check out who was sending me
messages. Now I was never matched to Carl as he was matched to me. So by chance we were online at the same time even though I wasn't aware until he IMed me. Well before I responded to him I checked out his profile..hmmm....interesting, and his pic was easy on my eyes LOL. When the IM popped up requesting to chat surprisingly I said yes, and the online dialogue began. Like Carl stated he was in the process of running off to church...so after a brief chat he gave me his number (bold
isn't he)and of course I scribbled them down. After church I wasted no time calling him (out of curiosity, hee! hee!) Shucks!!! I got his voice mail so I left a message. He called me late afternoon...now when I heard his voice I was trying to put it together with his pic; quite
unique. Anyway, needless to say we talked for long while that Sunday and the days to come until
our first meeting on February 14th, 2008! And, the happily ever after is: after a few months of dating, he proposed to me on my birthday August 14th, and we are getting married in March of 2009. The End, no The Beginning!!!!
(Teechele)




Velvetlady44
I would just like to share my story with everyone on the site. I thought I would give the site a try for a few months. For the fist month or so, most of the men that contacted me where from abroad, so I thought the site was not for me. I was about to give up, then Glen from the UK contacted me and we got along very well. We have now been seeing each other for two months and getting along great. I wish everyone the best with the site.
sonja_d & KoolKD
Thank God and Blacksingles for everything! After less than one month of joining your site, I have my Mr. Right. I joined another site along with yours and even though the other site is suppose to be better, I always found myself gravitating to your site where I found KoolKD. He was the first guy to email me and welcome me to BlackSingles. After chatting frequently, we finally went on a blind date where I convinced him that I was very unattractive on the outside, but he met with me anyway. After discovering how much we were alike and had in common, we decided to make it official and become a couple. I never posted my photo because I was determined to find someone that was just as intrigued about my inside as my outside. Everyday he expresses how my outside and inside are equally beautiful. So men, just because a lady doesn't post her photo, it doesn't mean she's unattractive. Now I know what it feels like to have a King.
aduwayelouis & heavenly915
I would like to thank BlackSingles staff and also I would like to thank God in his Infinite mercies for joining me and my found wife Tamika(username: heavenly915) who I contacted on this website the day that I registered in July of 2008. I sent her an email and she responded back to me on my phone number through a text message and from there, we started communication. She always calls me on the phone every time; we hardly even sleep at night because we will be on the phone talking all night long. She lived in Michigan and I lived in Atlanta Georgia. After talking for some weeks, we decided to meet and I relocated immediately from Georgia to be with the Woman of my dreams and heart in Michigan. I remember when she picked me up from the airport on August 20th, 2008. Although she was late due to traffic, we kissed each other and just smiled and we immediately got into her truck and headed home. To cut the long story short, we finally got married on Sept 18th, 2008, three days after she marked her birthday. Since then, we have been living happily ever after.
whiterose34
Well, when I got on BlackSingles, I thought I would never find a man. Someone on this site met my needs and my expectations and he liked full figured women. I'm so in love, I cant help myself. So all you full figured women, if you are looking for a man, BlackSingles is the place to go.
AJ_25
At first I thought being online to meet someone seemed desperate and a big joke. Now I am the happiest I have ever been. When we met for the first time it was like we had known each other a lifetime. We talked on here for a few months and then he flew to my city and its been all fun ever since. My future husband?........Only god knows, but a friend for a lifetime.........DEFINITELY!