Success Stories: 2008
natasha1149 & xxxrodie
xxxrodie (of Andalusia, AL) and I met in June of 2007 in Jacksonville, Florida. He was visiting and considering moving to Florida, just never considered Jacksonville. After about three months of emails and phone calls, we realized that we'd actually known each other from college in Atlanta and knew the same people. We decided to take it a little further. Within three weeks, he relocated to Jacksonville to prove how serious he really was. Five months later, we decided to get married. On June 14th, 2008, we were married and are extremely happy. Since, we have relocated w/the Army to Colorado. He is now serving his 4th tour in Iraq.

I never would've thought that I would meet someone online. All I can say is focus on what makes you happy, set your standards high, never lose hope, and stop looking so hard because GOD will provide all your needs and send you someone that you can share your happiness with. And I can't wait until he comes home.

Thanks.
midnightfantasy & ladyblue61
I just wanted everybody to know that BlackSingles is the best dating sight that I have ever been a part of. The woman that I met is all the woman I ever dreamed of and wanted. Thanks to BlackSingles, I have found the woman of my dreams and that woman is ladyblue61. She is mine forever.

Thanks Again BlackSingles!

Midnightfantasy


Growna55man
I'm not much for words, but since I met J, I can't SHUT UP! lol! She is everything a good man deserves. She has a beautiful personality, warm demeanor, loving, caring, giving, and the list goes on. But most of all, she has NO DRAMA! lol! I am amazed of how the two of us have so much in common. I know how its all good in the beginning, then it all wears off. Well, we talked about that too. WHAT ATTRACTED THE TWO OF US WILL KEEP THE TWO OF US! She's not with me to share her feelings, but rest assure that when its her turn to share her story, it will be better than mine. lol! I LOVE YOU J!
devilangellv
I met the woman of my life and she means the whole world to me and nothing on earth will separate the both of us. Thank-you BlackSingles, for making my dreams come through in life. There is really true love here on BlackSingles.com. I wish everyone here on BlackSingles that are still single, the best in life.
carribeansis & smartuber
In 2007, I began receiving communication attempts from smartuber in the UK. Immediately, I requested that he not contact me anymore and that I had no interest in a long distance relationship! Nevertheless, he persevered, never giving up. Recognizing how intelligent and articulate this man sounded, I humored him chatting for hours on end...which continued for months. He asked that I no longer continue to date others, however, I couldn't realistically considered a virtual relationship real, so I kept on searching for that "night in shining armor". All this time, continuing to text, IM, and speak via telephone daily. Then finally, on June 28th, I took a trip to London, where we met and had the most wonderful time imaginable. He will be here to meet my family in December. We are planning our wedding for May of 2009.

He is so wonderful...I never in my wildest dreams thought I could feel this way for anyone.

Who would have thought...the English gentleman could steal my heart!
ibperk7
I have been on Black Singles for less than a month and chatted with a few ladies, even met one for dinner. I ran across a profile from Chicago and we hooked up and things could not have been better. "Sparks" immediately began to fly when we met. It's all good, because I was the world's biggest skeptic of online dating, but now I am a believer. My friends now call me Mr. Computer Love. Thanks Black Singles for introducing me to "My Queen", the lady of my dreams. If everyone else finds what we have found here, they will be extremely happy for life.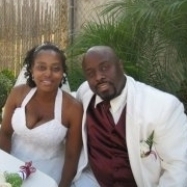 Pacmann61 & HighlyFavoredByGod
I want to first thank my Heavenly Father for bringing Phillip and I together. Because with out HIM, we would have not met. We both had been in not so happy relationships and we both agreed that in order to have a true solid relationship, we would have to put and keep God First!

On March 31, 2007, our paths crossed. After two weeks of cards, sparks and long talks over the phone, we had our first date. It was a picnic at the lake and it was perfect. As we watched the sunset and listened to oldies, we had such a great time together. Who would have known what God would be up to next. As time had gone by, we asked many questions and found out more and more what we shared in common. We were far apart, but inseparable. On the weekends we would travel back and forth spending time together and attending each others church. As we prayed about our relationship, we listened to God and were engaged on Mothers Day. God had the final say and on September 6, 2008 we made our vow before God, family, and friends! We share a union that is built on faith, commitment and love. And now we are "Sharing our lives together as one"

Thank you Black Singles!

Phillip and Ponda
Pacmann61 and HighlyFavoredByGod
gigli14 & richsolomon
A month ago, richsolomon im'd me and despite problems with the im, he received my message to email me. I thought that our relationship would just be friendship. We went on one date and the rest was history. We had already completed the Color Matching Test and I asked him to complete Compass. WOW! We have so much in common that we have realized the joy of meeting a person that is seriously pursuing a life changing, God filled relationship with another person. We have both been on the site for a combined four years and are still humble with just the safety that the site provided. Thank you, Thank you, Thank you, though it has only been a month since we have met, we are planning our lives together, as we learn to combine not only our hearts, but our lives and families.
zooom327 & mrgonzalezx1
After nearly 2 years, I have met the man I waited a lifetime for! I couldn't have believed it would actually happen through the internet! Mrgonzalezx1 and I have decided that we are a perfect match, so thank-you to BlackSingles.com.