Success Stories: 2006
VersatilePrincess & FlashFlair
I decided to join when I saw the profile of a member (FlashFlair). He wrote me and although I swore I'd never pay for something like this, his profile left me extremely optimistic. When he wrote to me, I was dying to find out if the feeling was mutual. I would have obviously never met him, as he lives about 12 hrs away from me, but in the 4 months since we met on blacksingles, I have come to truely love this man. He is definitely a blessing--the man I have been searching for, and I can't wait to see what the future holds for us...but in the meantime, I am officially "off the market!"
Freeman4you
I met a lovely young lady through your site. She has all of the qualities that I have been looking for in a woman. Since meeting we have spent no less than 4 hours a night talking about anything and everything. The connection between us has been truly amazing. I was at first a little disappointed by the matches I was receiving but, with a little patience the love of my life appeared. I would like to say thanks for your service and I would recommend the experience to others looking for friends, companionship or love. My experience has been worth the time and the fee. Thanks again. No longer "Freman4you".
IndiaBoricua
I have been on this site for a few months and I praise the lord for allowing me to find the man of my dreams he is so wonderful. I can truely say that I have found my Soulmate. I would like to let all the people that I was talking to know that I do value all your friendships and your time and energy, I wish you all the same luck that I have been blessed with, take care and always be safe. Your friend always India. Thank you blacksingles for this wonderful oppurtunity for helping me find the man I am going to marry and spend the rest of my life with. Thank you so much.
chivalry1 & calista
Hello to everyone on black singles. I came to this site not really expecting too much to happen, because I was kind of skeptical about dating sites. I was looking for nothing more than perhaps making a few new friends, but after only being on black singles for only a few months I saw a profile that really sparked my interest and I met all of her criterias expect for the distance radius she preferred. I felt a little discouraged because of the distance, she showed interest in my profile as well and that give me a little hope if nothing else I just wanted a friendship with her because no matter how many other profiles I looked at, I kept going back to hers. I had only a guest membership and she had a full membership so that made it a real challenge in contacting one another. Whenever she tried to contact me on black singles instant messenger I would miss her by minutes so it seemed as if we were playing black singles tag. Just when we got to the point of just giving up since we could never be on at the same time we decided to try one last time and that is when we finally made contact with one another. From that first conversation we both felt it and knew that we were meant to be. I never use to beleive that a person will know if they maet the right person but I know I do because it happened to me. I never could have imagined that I would meet the one online, so I want to wish everyone nothing but the best during their journey and endeavor of searching for true love. God Bless you all and Thank You So Very Much to the entire staff at Black Singles and I will keep in touch to let everyone know the status of our true and blessed love.

I just wanted to add that chivalry1 & calista are plannig a life together. We were both blessed by God with each other. Even though the distance is great, our love is greater. Never let a long distance relationship deter you from happiness. Calista took a chance on me despite the distance. That faithful day of June 15th 2006 truly changed my life and I have never been so happy and so in love and for the first time in my life I know what true love feels like and it's beautiful. CALISTA AND I HAVE FOUND THE WOMAN AND MAN OUR DREAMS IN EACH OTHER!!!!! God Bless You Tasha and The Black Singles Staff, your site is a blessing to everyone who is looking for TRUE & BLESSED LOVE,


SINCERELY,


CHIVALRY1.
raniah55 & salley54
After so many strange contacts and conversations, I met salley54. But surely I was on the verge of giving up. Everything about him is and will continue to be wonderful. We lost contact for a week because I said I will call him and I didn't, but not knowing why I stopped hearing from him. I kept calling, e-mailing, smiling, sending cards and leaving messages on his phone. Finally when he e-mailed me back I found that he felt I was not a woman of integrity. I knew then he was the right one. I apologized for the misunderstanding and I know without a shadow of a doubt he's the one. Great morals and principles.

thank u, thank u, thank u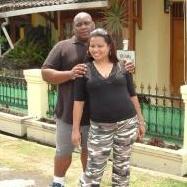 manis & ebat123
There is definately a God in Heaven watching over me. My new man is all I ever wanted. He is romantic, fun and he Loves me for me. We are currently 10,000 miles apart but our hearts are not. He just finished his first visit to my country and we are headed in the right direction for a life of LOVE LOVE and more LOVE. I wouldn't change a thing. BSC I'm glad you were here to be used by God to bring us together. So I say to you...THANKS!
teetang & Matkin
Hello black singles. I am so happy to report I have found the man of my dreams right in my own home town of Louisville, Kentucky. My user name is Teetang and his is Matkin. We tried to talk using the instant messager but he was typing so slow that I invited him to call me. That was about 9:00 pm. The next thing I know it was 8:00 in the morning. We decide to go out for dinner and the connection was so great that we haven't spent one night a part sense. He has welcomed my four young adult kids into his life as though they have always been in his life. He is very romantic and, when we decide that wanted wanted to move in together, we did just that. But he had the master bathroom remodeled to what I wanted and needed. He bought me sleep wear and prefumes and have all of this waiting in my full walk in closet that he moved out of just to make sure I had the room I needed. We are plaining to get married in March most likely on my birthday the 3rd. I truly would like to thank the staff of black singles for all the hard work that they have put into the site and without you the would not been an us. Thanky you again, from Teetang and Matkin.
msrlxer
Hello Everyone,

I did it , I did it , I finally got my success story and its great to be here at last. He meets all of my criterias he is warm, loving, has credit, a personality, no mammas drama, and a mind of his own. I've been here awhile and I've meet some really nice people but its even greater to meet that special someone who makes you believe in fairy tales and happily ever after endings. It's still new for us but I have hope that it will all be good. Well, Y'all its a wrap thanks for the all the love shown but I got the real thing now and its time to go.

Advice: Ask God for what you want and wait patiently for it cause he does deliver!!!!!!!!!
OldFashionWSBM
This site was the last dating site I had any intentions of visiting. I met a young lady via this site that has all the intangable qualities that I could have listed if I had made a list which I didn't. I asked GOD to bless me and lead someone to me and me to someone at his own pace and time. And to allow me to see, through my heart, when I had met that someone very-very special that could make life happier ever after. Because I believe in the ever after. THANKS to this site I was allowed the opportunity to see into the future with great expectation, and through GOD was guided to that special PERSON.