Success Stories: 2007
wbls & blkcountry
I started sending smiles and wasn't getting much of a response. A smile here and there. So I would wait a few more days and send another. I was chatting with others and had a few dates set up, but something just kept taking me back to his profile. I think I liked his screen name "blkcountry". For some reason that just stuck with me. Well finally he sends me an email. I couldn't reply fast enough. Then one night, I seen he was on-line and we started instant messaging each other. Well, he said he couldn't type fast and wanted to know if we could talk. I gave him my phone number and it was on from there. We laughed and we talked and when the weekend came, we spent Friday, Saturday, and Sunday together. WOW.... He lives about an hour from me. Well, our first conversation of the day starts about 6 a.m. and then again about 9 and then lunch. Then again after work and then there is always that goodnight conversation. I know can you think two people couldn't have so much to talk about, but we do. Come to find out he grew up with my sister in law. My, what a small world. Anyway, things are going well and we are looking forward to spending our first Christmas together. Thanks Black Singles for your services. Oh, did I mention he joined for one day just to make the connection with me. After he got my phone number he went back in and removed his profile. Wish us Well!

Thanks,

"wbls"
yodibodi
I joined BlackSingles with the intent to meet new people; I never considered finding someone with whom I would remotely want to start a serious relationship with. I have however been completely blessed!

I had the great honor and pleasure of meeting the sweetest, most loving MAN I have ever met. He enhances a life that I thought was already filled with happiness and adventure. I am truly his rib and he is my earth; God has definitely ordained our love for one another. I am blessed to have such a gracious and God-fearing man in my life. God has a way of positioning his people in our lives at just the right time - Peace!
angelwishes
I had nearly given up meeting my Soul mate, but decided to join again for 1 month only for one last time. That is when I came across Jon's Profile. His sister had given him a 1 month subscription for his birthday as he had never been on a singles site before. It was instant attraction for me and it felt right so i thought why not. Well he checked my profile also and we both clicked yes.

When he read Queen, he thought I lived in Queen New York, he did not realize I lived in Queensland Australia. We decided distance will not be a problem and he will relocate here sometime next year. He is a wonderful guy with wonderful qualities and at our age, (He's 61) (I'm 56) our meeting is a true blessing from God. We have a very deep connection and plan on enjoying our years together always.(Marriage in the Future)
So thank you to all at Black Singles. Without you there would be no us.

So to all out there still Searching, do not give up because if I had of, I would not have met the love of my life. There is someone for everyone out there. Good Luck to all.

By the way I received good news today that my 11th grandchild is on the way.

Cheers!

Christine.
Southerncomfort56 & Christopher1981
Christopher1981 and SouthernComfort are a couple now...All I can say is that things are working out just fine. I was searching for love and romance and he was looking for companionship and comfort. Black Singles color coded us a 89%, I think it was more like 99.9%. We both live in South Carolina, only 30 minutes apart. He lost his wife about 6 months ago and I lost hope in finding someone who would sweep me off my feet. Christopher1981 has done just that. Now all we can talk about is spending a lifetime together. OH YES...I do hear the bells and the are ringing loud enough for all to hear.
We are truely in love and enjoying one another's company. We will be writing back to Black Singles in the near future and update you with our plans.
I would like to thank all my friends here on Black Singles for being so wonderful and kind and good luck to each and all.

SouthernComfort...aka...Audrey
&
Christopher1981...aka...James
katie18
Thanks for bringing out this kind of dating site, I am soooo glad that I found my special someone in here. I can't thank god enough for letting him in my like. The first smile I received from him was on October 31st 2006. After that, he sent me more cards and smiles. I went to New York on November 9th 2006 and I wish I could leave him a note that I am coming to New York for vacation, but I couldn't because I wasn't a full member, so I went on my vacation and didn't think about him any more. After I came back, I saw that he was sendimg me some more cards and smiles, so I responded the way I could. I thought of how I could get in touch with him and I said to myself, "if god wants us to get in touch, then it would happen". So I went online on February 3rd, and he was sending me a IM. The first thing he said was "finally, I get the chance to talk to you". I said, "yes, finally", so we were talking a little bit about our lives and he asked me why I don't have a boyfriend. I responded, "BECAUSE I DIDN'T FIND THE RIGHT ONE YET". I told him that if he would like to, we can talk maybe sometimes and he said email me your phone # and I'm going to call you in 30 minutes. He also said that we couldn't talk that long because it's very expensive to call to Germany. Yes, I live in Germany and he lives in the states, so he called me and when I first heard his voice, I fell in love with his voice and all of the things he said to me. Nobody made me feel like this before.
Today is December 1st 2007. We are still in contact and we talk on the phone everyday, sending text messages and emails. I am sooooooo in love with this man and I know he feels the same way. We were making plans to see each other next year in February; I hope it's going to happen because my baby is very busy right now, but we will make it.
Thank you BlackSingles.com. God bless everyone on here. Trust in yourself. katie18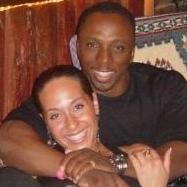 beautiful1604 & flewbyu
My friends put me on this page last year April´06,they wanted me to try this online-dating, but I didn´t really believe in that because I´m from Germany (originally from Turkey)...my second day on here I clicked somebody's profile without knowing how all this works on here, so I didn´t leave any message or a smile.
After that, he clicked my profile and left a smile...I smiled back and so we start sending each other cards-smiles etc...I was not a premium member so I couldn´t even read his e-mails, but as soon as he figured that out he started to IM me...He has 3 kids living with him and I have 2 kids living with me. We were laughing a lot and I feel like he is my soulmate...We were talking on the phone for hours. He had no passport to come visit me in Germany and I had no visa to go visit him in the states because of my Turkish-Passport.
I needed to meet this guy no matter how, so he got a passport and came after 6 months to Germany to stay for 2 weeks. I booked a little trip to Turkey for 1 week so we stayed 1 week in Turkey and the other in Germany and everything was just perfect until the day he had to leave. We both had tears in our eyes, but the time was over.
He came back to Germany in November and asked me to marry him. He had the ring and put it on my finger and I said YES...We got married December 8th 2006 in Germany and at the same time I got pregnant...what a blessing :-) Our little girl was born August 13th 2007, but we are still apart from each other until we get through with all of the paperwork for us to be able to live together in the States...This page here www.blacksingles.com made us so happy. THANK YOU BP.
Hopefully it will make many more couples happy.

November 29th 2oo7

Canan & Rick
strongblackmomof4
I DONT KNOW WHERE TO BEGIN,FIRST OF ALL THANK YOU. THIS MAN AND I MET ON THIS SITE. HE'S SO BEAUTIFUL BOTH IN AND OUT. HE'S A BLESSING FROM GOD. I THANK HIS MOTHER AND FATHER FOR CREATING HIM AND RAISING HIM TO BECOME THE MAN HE HAS BEEN BLESSED TO BE. OUR LOVE WE BOTH HAVE FOR EACH OTHER IS SO STRONG AND A BLESSING WE BOTH APRECIATE FROM GOD. YES, HE'S MILES AWAY, BUT OUR LOVE FOR EACH OTHER IS SO CLOSE IN SPIRIT AND AT HEART THAT WE ARE SO CONNECTED THROUGH CHRIST THAT WE DECIDED TO GET MARRIED. WE BOTH THANK YOU AND THE STAFF FOR OPENING DOORS FOR US TO LOVE AGAIN. I THOUGHT IT WOULD BE IMPOSSIBLE TO FALL IN LOVE WITH SOMEONE ON THE INTERNET, BUT HEY ITS REAL. THANK YOU! THE ONE THING THAT'S HOLDING US BACK IS THAT HE'S FROM ANOTHER COUNTRY AND I'M FROM THE USA. WE JUST WANT TO SEE EACH OTHER SO BAD THAT IT'S DRIVING US CRAZY, BUT IN FAITH WITH GOD IT WILL HAPPEN. OUR LOVE IS SO REAL THAT WE FEEL EACH OTHER AS IF WE WERE BOTH NEAR ONE ANOTHER THANKS TO YOU GUYS. WE WILL LET YOU KNOW WHEN THE WEDDING DATE IS... AND YES, HE DID PROPOSE TO ME AND AS YOU KNOW I DID SAY YES. SO AGAIN, THANK YOU FROM A COUPLE WITH A NEW BEGINNING OF A LIFE TOGETHER UNTIL DEATH PART US.
Sireneti & Howaboutthis101
I was always doubtful of online dating. I met Howaboutthis101 in late February of this year and we talked over the phone and through e-mail until July 31, 2007 - the day we first met in person. After that day, we have not stop talking and getting to know each other. We are very special to each other and our relationship continues to grow. If someone would have asked about online dating, I would have told them not to try it. I Thank God for our relationship for it is true unconditional love developing through two kindered spirits. Thanks Blacksingles.com and God Bless everyone on their endeavors. - Sireneti :)
bennydunagin & ANatureOfaSister
I would like to personally thank you for allowing me to be apart of something that literally helped me find an angel. The girl of my dreams, username was A Nature Of a Sister, aka Regina Proctor. We met in July 2007 and are preparing for a wedding in August of 2008. She is everything I wanted in a mate and more. I was skeptical of dating again after my divorce from a marriage of 8yrs., something drew me to this site. I was sitting at home surfing singlesnet.com and this site came up, so I thought I'd give it a try. There were so many, but this one profile kept drawing me. She sent me an email, but I did not have a membership so about two months passed and I decided to join. That same day I emailed Regina four times, saying in one of them, "if you are still a member please contact me ASAP"!!!!!!! Well the day after my emails she was about to give up and withdraw from this site after being on the site for a while, but then she saw my emails and thought she'd contact me. We talked on the phone from my office and later that night for hours. We clicked and about two weeks prior, I drove to Oklahoma to see her from Texas and it's been on every since. I knew from the start she was for me and the same with her so I popped the question in September and she said,"YES"!!!!! She moved to Texas and all is well. Thank you again for an angel especially designed and on hold for me!