We share the same goals and dreams, and are committed 100%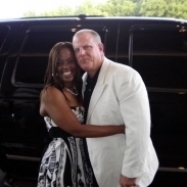 CutiePie1 & Janthny
Dear BlackSingles.Com Users,

Our names are Audra (username CutiePie1) and Jerome (username Janthny). We decided to share our story of how BlackSingles.Com has changed our lives and how you can achieve the same successful results if you use the service and information that BlackSingles.com provides. We are truly blessed and are thankful that BlackSingles.com provided the opportunity and mechanism for us to meet and build our life-long relationship.

Audra's Story

I became a subscriber to BlackSingles.com in May '2010. My intent was to commit to a one month membership only. I received many emails, smiles, and cards from many different individuals. However, none of the member's profiles fit what I was looking for in mate. I would on occasion take time to look at the members that viewed my profile. I noticed that Jerome viewed my profile several times. I decided to view his profile around June 27, 2010. I immediately noticed that we have a lot in common after reading Jerome's ABOUT ME and FUN FACTS information. I then decided to renew my membership for one more month so that I could communicate with him. I requested a photo of Jerome shortly thereafter.

Jerome responded almost immediately! We began communicating via email with a series of questions. I loved all of his answers which were more of an indication of our level of compatibility! We talked on the phone for the first time on July 5th, 2010. The conversation was great! We were both very open about what we were looking for in a relationship and desired the same things out of life. It was amazing how like-minded we are and with that discovery we decided to arrange a day to become more acquainted with one another by meeting face to face. This meeting included my 13 year-old-son, Brandon.

Jerome was a total and complete gentleman. He possesses character and integrity that is "out of this world". He is also very romantic, caring, honest, open, and transparent. The three of us hit it off very well! After talking and discovering that we were both very like-minded and supportive of each other's dreams, goals, and aspirations, I knew he was "THE ONE for my son & me". All I can say is, when you know, you know and that it doesn't have to take long. Jerome is everything I prayed to God for & more!

As Jerome mentioned in his part of the story, my birthday celebration was the best I ever had! However, I fell in love with him before my birthday for who he is & how he treated my son and me. We have been together ever since. We have attended several social functions and events together and have always had a great time!

Jerome and I became officially engaged on July 31, 2010! I am truly blessed to have Jerome in my life. I feel like the luckiest girl in the world! I eagerly look forward to us spending the rest of our lives together and having more children together!

I want to encourage everyone to never give up on meeting the man or woman of your dreams!

Many Thanks BlackSingles for making it possible for me to meet the man of my dreams!

Jerome's Story

I joined BlackSingles.Com on June 16, 2010 approximately 4 days after ending a 7-year relationship. Since I was new to the dating scene, I placed a profile on BlackSingles.com but I was not sure how to upload any pictures. I had responses from several members and set up dates which never happened. I visited Audra's profile several times (I could tell that she was very focused and committed to her goals and desires) but her profile indicated that she would not be interested in members who did not have a photo as part of their profile.

Through divine intervention, I received a smile from Audra stating that I had a great profile but no pictures. I was shocked to receive the smile from Audra; however, I sent her an e-mail requesting a yahoo address where I could send the photos of myself. She obliged my request and I provided my pictures. As a result we shared numerous e-mail and text messages which truly illuminated Audra's character, personality, and commitment. We also had numerous telephone conversations which lasted for several hours each time.

We decided to have our first date after the 4th of July holiday. On July 10, 2010, we took her 13-year old son with us and we enjoyed a movie and dinner. There was no pressure, stress, or odd moments and the initial date was a huge success for all of us. On Friday July 16, we celebrated Audra's 43rd birthday. Since she is a 1st Class Lady, she was treated with a limousine ride to a fantastic restaurant in Knoxville, and given several gifts including Tiffany jewelry, Jimmy Choo & Coach handbags with Coach Sunglasses. We also shared a romantic dinner on a balcony of the Lakeside Tavern which is located on the shore of the Tennessee River. Since that night we have shared numerous high quality dates, attended church services together, and have expressed our love and commitment to one another.

As a result of BlackSingles.Com, I have found the woman of my dreams. I knew we were compatible (100% match score). We share the same goals and dreams, and are committed 100% to each other and are willing to do whatever it takes to support each other in reaching those goals and dreams. I am truly blessed to have Audra and her son, Brandon in my life and I know that we will spend the rest of our lives together as a wonderful family including her son and additional children we both want to have.