Success Stories: 2005
Specialdrkchoco
After having a very traumatic experience with the first person I met on BlackSingles.com (formerly Black Singles Connection), I renewed my account anyway. Within a week and a half, my future husband IMed me. "Oh my God", is all I can say. I thought all hope was lost. But, I didn't give up and my future husband found me. All I can say is this man is everything and more. I never thought in a million years I would ever have everything I asked God for in a man. I'm speechless. Thank you for another chance at love.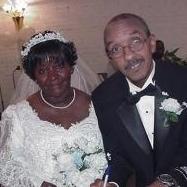 tonyron & Kay656
Hello Tasha,

I would like to thank you for the free one week membership you gave me back during the spring. During that time, I made a connection with "Kay656" and we have been seeing each other since late May. I have found a sweet young lady who I believe is ideal for me and she feels the same about me. Thanks again for your hospitality and I hope to never have to use your services again, ever in life!

**UPDATED Feb 19, 2007**
A lot has happened since my last correspondence to you. As you already know, I met Kay656 online at a time when I was about to give up hope of finding anyone suitable for me. You offered me a free week of unlimited access and I was getting a lot of smiles and things from Kay656 so I decided to use my unlimited access to chat with her by instant messenger. Soon afterwards, I was traveling to SC from NC to meet her and things starting happening right away between us.

I was traveling every weekend to see her and my youngest son, who lives with his mother, started accompanying me on my weekly visits. We were behaving like one big family and soon, we realized that one of us needed to relocate and I decided to move basically because I was not rooted in NC and I felt I could make the move and settle in nicely in SC. I located another job quickly and we started making plans for our wedding.

We had a lovely wedding with all of our children participating in the ceremony. Our friends have asked how we met and when we tell them we met on Blacksinglesconnection.com, they find it hard to believe. But we are living proof that with the grace of God and a little patience, you can find your soul mate! Soon, we will be celebrating our 1st anniversary on April 29th. Thank you again for allowing us to meet online on your website. I am enclosing a picture of us from the wedding.

Sincerely,

Anthony and Kay

(Tonyron and Kay656)


Dredee2 & ChefCreole
Thanks to BlackSingles.com (formerly Black Singles Connection), I met the man of my prayers. "ChefCreole" and I are engaged, our wedding date is April 08, 2006.

"ChefCreole" and I met here online in Jan 05. He took me to L.A. last week to meet his family. I've spent time with his beautiful daughter. He came to New Orleans with me to meet my mother and family as well. Remember, this is a big deal, people who will not share their family and friends with you should be red flags.

Once we decided that we wanted to be exclusive, background checks, credit reports, and W-2's were shared. We also had physical exams done together, testing for STD's, etc. Use wisdom my people, the world has become a very different place. On October 11, 2005 we start 8 weeks of pre-marital classes at our church. We now belong to the same church.

For those of you who truly are serious about finding that special someone or lifemate, we would like to leave you with a little advice:

1. Honesty and Communication: Always keep it real, the truth will always come out. If you are not telling the truth in your profile, you are only hurting yourself.
2. Respect for one another: Your actions and try to keep them positive.
3. Pray with and for one another: This is a big deal.
4. Always try to look your best: Take a bath and wear clean clothes.

Our prayer is that for those of you who desire that man or woman of your dreams, that you find one another. We are very much aware of how blessed we are to have found one another. A big part of this is, we are the people we said we were and more in our profiles. There have been so many wonderful, wonderful surprises in our relationship.

We understand that we are not perfect people, just perfect for one another!!

God has been so wonderful in our lives. We are so blessed to have found one another. Please keep us in your thoughts and prayers.

"Dredee2" & "ChefCreole"
chocolateluver2
I am writing because I met a guy on this site in May of 2004. We chatted for 2 days on your website. We met in person 2 days after that. It was love at first click. He is such a wonderful person who I thought I would never meet. I also never thought I would meet any one off the internet because that is something I always felt that was so unsafe. But, this person had every special quality and then some. We were engaged three months later and were just married June 18th, 2005. It was such a beautiful wedding. Our families get along so great that sometimes one doesn't know what person belongs to what side of who's family. Everything is just so beautiful. We just wanted to say thanks for giving us the opportunity to meet the lover and best friend of our dreams.
dennislee51
Dear BlackSingles.com (formerly Black Singles Connection),

I have good news, I met someone on black singles connection and we are getting married August 14th. We are very happy and we will have a large wedding with friends and family attending. Thank you BlackSingles.com for your support and the opportunity to meet many nice ladies. But, I found the one woman I have been waiting for and we have the right chemistry too and we are happy. Thank you again.
racergirl
We met on BlackSingles.com (formerly Black Singles Connection). We chatted casually, then more seriously on the phone. Then, he came down and visited and I realized that this was the person that I wanted to spend the rest of my life with. Since it's only me and him, no children involved, and since my pastor gave us the go-ahead; we decided that we did not want to spend another day apart. Thank you again Tasha. I think that you provide a real service to those of us who are sick of the club and bar scene and who are just too busy to really get out there and meet quality people. It provides a safe, non-intimidating, way to meet people.
sexyt67 & blackmax1591
I just want to thank you, Tasha at BlackSingles.com (formerly Black Singles Connection), I have met the man of my dreams on your site. His name was "blackmax1591" and I was "sexyt67". We have hit it off well and are talking marriage. I had given up on the relationship thing, but I want to tell people out there that there is hope. Thanks.
Pumzza
I met a friend on this fantastic site who introduced me to this mate and we instantly connected. The man is sweet, he is generous, loving, most considerate, and best of all he is my man. I don't have to even remind him that I love him. He says it for me. He is the most phenomenal man I've ever encountered, he came at the perfect time in my life. He restored my faith in love. We have already started to make future plans because he always says: "You are in my future. We have to start a family because I love you so much." Surely he has demonstrated his love and he has done so much for me. THANK YOU, THANK YOU. "Pumzza"
susie231
Yes, indeed I met a lovely, kind, nice man on BlackSingles.com (formerly Black Singles Connection). He is paying for my ticket and hotels just to see him/meet him in the USA. I am flying by China Airlines to Los Angeles this Thursday, 14 July 2005, from Sydney and I am staying for 12 days. He is from Boston and I can't wait to see and meet him in person. Thanks for your help and having this site. I always said to myself " If I will never try! I will never, never know. So, life is too short and maybe this is it! We have been contacting and talking for 7-8 months now by long distance calls and letters. We have been sharing all the personal details of each other. I think I have shared enough to you, wish me luck and thanks once again.