Success Stories: 2005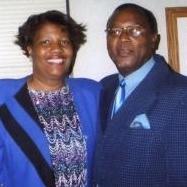 blessedone07 & Joyousong
Hello Tasha,

Yes, we are both delighted to be in each others life. We know it is a blessing from the Lord. Because I have prayed for such a person as this. At first, for as I can remember, she did not have her photo posted in August 2005. I clicked
onto her profile and I had asked her why shouldn't she be mine? It is not clear to me as to what her reply was at that time. However,shortly afterward
her photo was there when I came back to visit her profile. We begin to exchange e-cards and smiles. And, the attraction continued from day to
day. Later, we discussed meeting each other after talking on BlackSingles.com (formerly Black Singles Connection) for about 4 to 6 weeks, and several telephone calls.

I had been a lifetime subscriber since 11-27-04. We are planning our wedding for November 19th, 2005. We pray that many other Black Singles.com members will find that missing link,or rib for the men.

Sincerely,
blessedone07 & Joyousong
MDRomance4u
BlackSingles.com (formerly Black Singles Connection) matched me with somone with a 99% score. We talked for a week. We met today for lunch and decided to date exclusively to see what develops. We would like to thank BlackSingles.com for bringing us together. Our prayer is that we won't be needing your services in the future.
chiefljl & sugarman50s
I joined the site in late August and met a wonderful godly man (sugarman50s) in early September. We emailed and talked on the phone until October. We met in Orlando and had a wonderful time. We both had been praying and believing God for a godly mate. We are dating and prayerfully seeking God's guidance concerning marriage. In the meantime we are enjoying getting to know each other.
hardworker45 & kwanejay
Hello Tasha,

This is "hardworker45". I've written you recently keeping you informed on my date and time spent with "kwanejay". It's a match. We have so much in common. He's a real sweetheart, fun to be with, and we have the same goals. He knows how to pick my spirits up when things aren't going as planned. I'm not a patient person, but he has shown me how to wait and let things happen naturally. He was right. I've learned to be patient. If it was meant for me to have, it will find its way to me just like he did. I'm glad I waited and let him come to me instead of me going to him. Believe me - he was worth the wait. We hit it off at the right moment. So, as of the first of the year we both deceided to relocate and start our lives together in a new state and city, we chose Miami, FL. So, with this, I'm saying thank you and your staff for making this possible. I have met the love of my life and I assure you that we will be very happy and will send pics. Thanks again and may god bless you always. I know he did for me.

UPDATE: July 5, 2006
Things are still going great for me and my match Kenneth. We're having so much fun together. Pictures are on the way soon. We want to keep you and your staff updated on everything. It's been almost two years since things have gotten serious. I'm telling everyone about your services. THANK YOU! I can shout that from the mountain tops.
chocolatestallion & Ulsplace2
I want to thank BlackSingles.com (formerly Black Singles Connection) for the opportunity to meet my mate, "Ulsplace2". We are compatible and his smile and warmth of heart just brings joy to me. We are on the right track to a long and wonderful life together. I just want to thank you again because with my busy schedule and life I would have never met him without your help. I hope you continue to bring happiness to singles all over because I have a constant smile on my face.

Chocolatestallion
RoshayK & Mandigo72
I was first contacted by "Mandigo72" on another dating site, but at the time I was dating someone and slightly overwhelmed by the number of contacts that were not my type. I joined BlackSingles.com (formerly Black Singles Connection) and when he and I first made contact on Instant Mingle we had a great conversation and exchanged numbers about a week later. Living two hours away from each other, left us to weekend dates. It's been 6 months and during our Orlando vacation together after 5 months of dating, he proposed. I was very impressed yet knew it was coming. We have the same religious beliefs, both single parents, and we just know how to have fun together. We are getting married September 24th, 2006. Both him and his son will be moving to Columbus by December. We are both so thankful to BlackSingles.com for allow an alternative method for meeting people. If not for BlackSingles.com we would have never met. I found my soulmate. He is so handsome and so attentive to my every need. We are both very fortunate to have found each other. Thanks to you, at BlackSingles.com.

RoshayK

His Story:
She took my breath away the first time we met. I met "RoshayK" and knew that she was the one. We talked on the phone, hours upon hours, everyday, until we finally met, one month later. Six months later I ask her to marry me and she said YES! And through the grace of God we will continue to share each other's love. Thank you BlackSingles.com (formerly Black Singles Connection) for helping me find my soulmate. We are truly in love.
mscaliz
I am so glad that I had an opportunity to become a member of BlackSingles.com (formerly Black Singles Connection). I wasn't on the site a whole month before I met a wonderful man not far from me. He and I talked on the phone for the first time at least 2 hours. Afterwards, we did meet and I tell you he was so right for me. We continue to talk and see each other. The times we share are so magical because we have so much in common. We are both mature adults (50+) and we are taking our time for now but I can say that I am so happy these days. It's nice to meet someone that you can really click with. I hope that those who are still looking will meet someone whether it be a new friend or that soulmate. There are still some good folks left. Don't give up.
merci2005
We met in February 2000, we helped each other via chat through divorce (mine) and child custody (his). Then, at the end of 2003, after my divorce was final, he told me he was in love with me. He is in calif. and I am in Miss. We visit each other when we can and are still keeping each other in tact.
warmspiritgw & Joesay
Joesay and I (warmspirit) met in January 2005; we hit it off immediately. We did a face to face in March 05. He resides in OH and I am in Cali, we continued to get to know one another and began to travel to see each other every month. We also went on mini holidays together. We met our respective families and he asked me to marry him. We will wed Dec 3, 2006 in Jamaica. Thanks, BlackSingles.com (formerly Black Singles Connection)! But for you, I would have never met my best friend, soulmate, and life partner.

**UPDATED Jan 26th, 2007**
We continued our long distance relationship and we both became travel agents to mitigate the cost of travel. It also helped us to see each other more often, which greatly enhanced our relationship. We recently got married in December 2006 at San Souci Resort in Jamaica. We had a destination wedding that was wonderful and magical! It helped that we became travel agents because we received upgrades and discounts. We are still in separate states, but we have faith that the transfer is coming through soon and we will soon be living together. We have found a home and look forward to being together.

Cheers,
Warmspiritgw and Joesay