Success Stories: 2004
Aloha Queen
ASIAM44 and I met through BlackSingles.com (formerly Black Singles Connection) on September 29, 2003. He's from South Carolina and I am from Hawaii. We joined BlackSingles.com after having exhausted meeting people through other ways. With many emails and many, many, many more phone calls we fell in love. We were confirmed about our love for each other when we met for the first time in November. More emails but during these times, a lot of very beautiful and poignant online greeting cards with words of such endearment! More phone calls, several times during the weekdays and just about throughout each entire weekend - but during these times to discuss our common, varying and opposing views about just everything imaginable! These discussions were quite vehement at times!!! This long distance relationship has been one of the greatest most difficult challenges for the both of us!! But, time well spent. We are to be married this June!
Valencia
I signed up for your site at the end of March and sent a smile to someone that same day. He replied, giving me his number. Since then, we've talked on the phone everyday at least 3 times a day. He recently came to see me and we hit it off. It all happened so fast, but when you know, you know.

I just want to say thanks for your wonderful site, BlackSingles.com (formerly Black Singles Connection). I hope that more people are able to find someone as wonderful as the man I have found.

Robyn
Here is what happened...

I signed on to your black dating site on March 8, 2004 and recieve a smile on March 11th from DMAY151. We emailed each other for 2 weeks and then we exchanged phone number and called each other. The first time that we spoke on the phone we talked for at least 45 minutes and got along extremely well.

After talking almost everyday, for a week, we decided that it would be safe to meet each other. We chose a mall in the area of Pittsburg to meet and stated that we would go out for dinner at a Mexican restraunt. We met at 7pm that evening of April 1, 2004. We had a great time as if we had been friends forever. We had so much to talk about and we both did not want the night to end. He is definately my dream guy. We both are on the same wave length and have been dating quite often since our meeting.

I just went on the site for something to do and never expected to have found this man of my dreams. We are taking things slow and yes not much time has gone by but we both see something special in one another.

So wish us the best as we go full force forward in our endeavors and we have BlackSingles.com (formerly Black Singles Connection) to thank for bringing us together.
Michelle in Main
I met "Gibson" from this website in January of 2004. After meeting over 55 guys from the internet from elsewhere in a 3 month period, it was Gibson that stole my heart and captured my soul. We are not only lovers but best friends.

We had an instant connection. I'm in Maine and he is in New Jersey. We love each other so much that he has decided to move here to Maine so that we can be together full time. As of now, we see each other every weekend - he's been to Maine nearly every weekend while I have been to New Jersey twice. The best thing is, he loves Maine and me!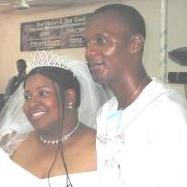 Micheal & Sonya Olukotun
Micheal and I wanted to send a huge Thank You for helping us to find each other. On December 24, 2003, we married in a beautiful ceremony in Africa. We never imagined that love would find us this way, but it did, and life couldn't be better! We used the user names Timitrad and Besangin. We now look forward to settling down in the U.S. and starting a family. To all the members of BlackSingles.com (formerly Black Singles Connection), don't give up hope. Your soulmate is waiting for you, just keep your eyes and heart open.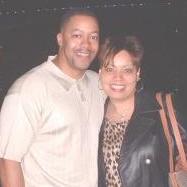 Cynthia and Jeff
September of last year I met my soul mate on this site, BlackSingles.com (formerly Black Singles Connection), and we are still going strong. We spent New Years together in Orlando, Florida and I must say that it was the best time I've ever had.

Thanks again BlackSingles.com for this blessing!