This was the start of a great relationship.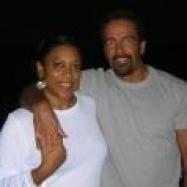 Some1_2Luv
It was on the 3rd of December that I sent Michael a smile telling him how gorgeous he was and that it was too bad that I lived so far away. Michael returned the smile and said that distance did not mean that much to him. This was the start of a great relationship. Michael was the only guy that consistently kept in touch with me on a daily basis and sometimes 3 times a day. Michael said that he had vacation leave coming up and that he wanted to come visit me in Florida. That was fine with me because by this time I was really feeling for him. Well, 3 weeks later, Michael came to visit and we took a cruise the day after he got here. He has extended his vacation in Florida an extra week. As of today, we are making plans to move Michael to Florida within the next few months, get married, and continue with our lives together.

If it weren't for BlackSingles, I may have never met the love of my life. I am thankful for BlackSingles in helping to bring this wonderful man into my life.

Thank you.